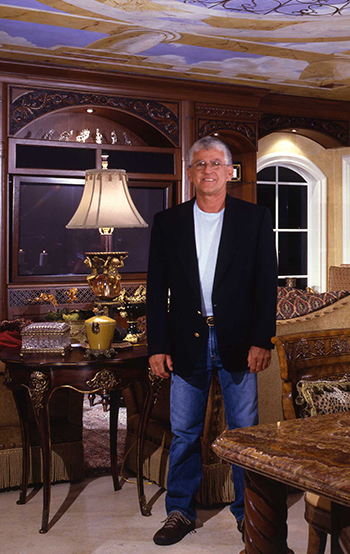 Specializing in Mansion Restoration and Finishing
Jorge Herrera is a renowned decorative artist and the owner of Calima Decor based in Palm Beach, Florida. He is an exceptional faux finishing artist and muralist that has been providing artistic services since he was a teenager in his native country of Colombia. His reputation for innovative artistry and project quality has allowed him to work in incredible creative projects throughout the United States.
His extensive experience in both commercial and high end residential surface decorative arts has made Jorge one of the most recognized artists in Florida. His ability to transform homes into beautiful living spaces through his vast experience and exquisite faux finishes and murals has won him nationwide notoriety.
In addition to recognition from magazines, interior designers and among the artistic community, Jorge was recognized as one of 2010 and again as 2011 Best Decorative Artist of the Year in Florida. Like most unique and gifted artists, Jorge has developed his own unique techniques that has made him one of the most sought out artists by interior designers and affluent clients.
Calima Decor works with architects, designers and directly with home or business owners. We don't leave the job until everybody is 100% satisfied. Contact Jorge today at 877-225-4625 or 954-254-4999 to discuss your project, or email at
jorgesart@gmail.com
---
Credentials
Experience:
20+ Years
School:
Faux Effects International
Year Graduated:
2000
License No. and State:
U-17696 / CC 95- 7734-PU-X Florida
Liability Insurance:
Insurance Matters, Inc.